WEEK FIVE SUBMISSIONS POST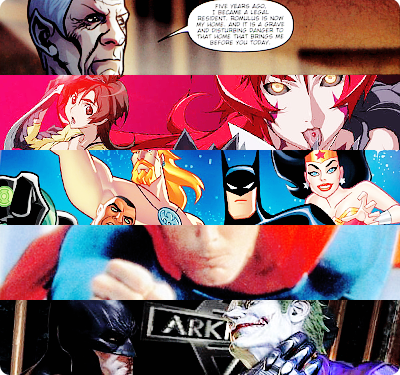 Be as inventive/imaginative as you like, with this one!
Theme:
Adaptations
This is a really broad theme, so feel free to go nuts - if you can justify it, then it's probably acceptable. :) From live-action movies (
Superman
,
Watchmen
, etc.), cartoons and anime (
X-Men
,
Justice League: Unlimited
,
Witchblade
the anime, etc.), video games (
Arkham Asylum
, etc.) to alternate media-turn-comics (
Star Trek
,
Conan the Barbarian
, etc.) - it's all good! Let your imagination run wild; I'm really keen to see what you guys come up with for this. :)
My only
real
rule is that you explain/justify your submission in your post. That is, please submit all icons in the following format:
Example Submission

http://img.photobucket.com/albums/v136/madzaaa/dairysorbet/lucifer01blackeyedpotato.jpg
Character:
Lucifer Morningstar
Adaptation:
Hellblazer
(comic) -->
Constantine
(movie).
THIS IS VERY IMPORTANT.
(Already posted, disqualified.)
There is
no limit
to the number of icons you can submit for this challenge!
Entries close on the 23rd of November, which I believe is a Friday? Voting for this challenge will, undoubtedly, finish around my birthday, and as I'm kind of excited about this, there is the possibility of ~special prizes~ for winners/active participants... :O!
FINALLY CLOSED
.