WEEK FOUR SUBMISSIONS POST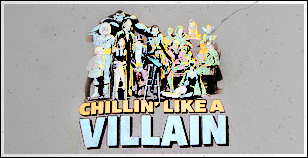 OKAY, so last challenge was probably a little obscure, so to make ammends, here's the theme you've all been waiting for--
Theme:
Villains!
This is pretty straight forward, yeah? I'm not fussy with who you consider a villain, from the Joker to Jean Loring (what character bias?) - so long as you don't try and turn the theme "villain" into "characters I dislike", ie. I don't know, Batman (
what character bias?!
), you should be fine. Characters that back-and-forth between being good guys and bad guys are also accepted, eg. Catwoman.
Also, just for the record, non-DC/Marvel icons are more than acceptable, too!
After considering the results of this poll, I've decided that each iconist will only be allowed to place once, and if they are to receive enough votes to place a second time, the entrant with the next highest score will place, instead. I hope the majority thinks this is fair? At this stage, I'm still leaving the rule as unlimited submissions simply because I love seeing what you guys churn out, pretty much. :$.

EDIT Iconists whom place overall will still be able to place in any special categories!
Example Submission

http://img.photobucket.com/albums/v136/madzaaa/dairysorbet/harley01likeatruck3.jpg
Character:
Harley Quinn
(Already posted. Disqualified.)
As mentioned above, there is
no limit
to the number of icons you can submit for this challenge!
ENTRIES ARE CLOSED.
Current Mood: eeevil. >:D